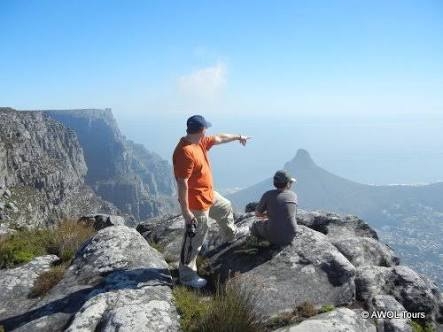 Climb Table Mountain or Lions Head for R350.00
Ever wanted to conquer the iconic Table Mountain or majestic Lions Head? Contact us to make it possible for you

There are more plant species on Table Mountain than there are in the entire United Kingdom, and we will encounter fauna in the form of rock hyraxes, colourful lizards and a variety of birdlife.

The Table Mountain National Park is a World Heritage Site, and an ecologically sensitive area with plants and animals that occur nowhere else in the world.
We follow the oldest, easiest and most direct route to the summit and therefore also the most popular. We follow a well-defined path, that leads up rock steps, with minimal scrambling. It tops out near the upper cable station.

At the upper cable station there is a restaurant, a café and a curio shop.
Return tickets for the cable car can be purchased at the upper cable station.
Time: between 1hr for the super fit to 3hrs for the slow
Rating: moderate to tough, depending on fitness and weather
Children: older children yes, but it is demanding

At 669m, this free-standing peak commands sensational and breathtaking views. Take in the city bowl, Devil's Peak, the famous front face of Table Mountain, the majestic Twelve Apostles, the Atlantic seaboard from Camps Bay and Clifton to Sea Point and Green Point, Table Bay, and Robben Island. Also serves as a great alternative for when Table Mountain is covered in cloud.

Distance: about 2km one-way
Time: 1hr - 1hr 30mins up
Rating: easy with some minor rock scrambling.
· Free pick-up and drop-off in the city area
· We hike up and take the cable car down. If the cable car is closed, we hike down. An extra 2 hours and R150.00
· Please take your own snacks and water.
· Please note that the cable car does not operate in inclement weather.