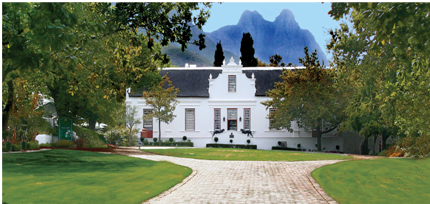 Cape Red wine cycle tour
7 day cycle tour where the cycling is flexible enough to suite every ones needs, with seeing the sights in the area and tastings the best red wine!

So what happens if you have 2 Englishman and 2 Aussies for a 7 day cycle tour around the Cape? Exactly! You taste a lot of wine!

Interesting to find out which of the 19 odd farms, was considered the best in the end!

Day 1 we cycled around Koeberg Nature Reserve and had lunch at Moyo, Eden on the Bay. Bunny chow is also unique to SA and is really good there. This days tastings was in Panorama at De Grendel. The best one considered there was the Rubaiyat. That evening we enjoyed dinner and entertainment at Gold and as we were experiencing Africa, the Warwick Pinotage was consumed.

Day 2 we cycled from Cape of Good Hope to Simonstown. We enjoyed sundowners at Cape Point Vineyards with their cheese and charcuterie platter. The Cabernet Sauvignon was the drink of choice. Dinner was enjoyed at Husser Grill in Camps Bay. The Rustenberg Stellenbosch Merlot went down well with the gemsbok steaks.

Day 3 we rode in Jonkershoek in Stellenbosch. Lunch was at Lanzerac and then we went for tastings at Glenelly. There we agreed their Lady May was the best on offer. On to Kanonkop and without a doubt the Paul Sauer topped the charts! This is a magnificent wine!! Diaz Tavern we enjoyed Beyers Truters Beyerskloof Pinotage.

Day 4 we rode from Gordons Bay to Rooi Els on Clarence Drive. Lunch was enjoyed at the waters edge at Bientangs Cave. The Vergelegen Shiraz was enjoyed with the veg curry. In the Hemel and Aarde valley we stopped at Hamilton Russel and the Pinot Noir impressed. Newton Johnson was really enjoyable and here we enjoyed their Pinot Noir Full Stop Rock that is on offer! At Creation we were undecided which was better. Their Creation Reserve Merlot or their Creation Reserve Pinot Noir. These plus their Creation Sumac Grenache were excellent!!

Day 5 we cycled from Franschhoek to Boschendal, enjoyed coffee and cycled back. However we stopped off at La Motte for a tasting. Here we were treated to their La Motte 2014 Pierneef Syrah Viognier. Lunch was at Roco and the Glenwood Merlot, was considered the best wine of value on the tour! Chamonix reds failed a bit to impress. Perhaps the wine matured in a clay jar was to strange a taste.
Dinner at Allure was made fantastic by our waiter, Banuel! Not only was his food recommendations spot on, the wine recommendation, Lynx Shiraz, was considered the smoothest by far! This once again because of the unusual way in which the wine was made.

Day 6 cycling started at Babylonstoren and ended at the Stellenbosch Kitchen where we enjoyed a great lunch and shared a Thelema Merlot. Another gem and excellent value wine! Wine tasting was at Tokara. The Tokara Directors Reserve Red impressed! Dinner was at the Chapmans Peak hotel and we ordered the Springfield Work of Time which is their Bordeaux Blend. This to go with Chapmans Peak Hotels very famous calamari.

Day 7 we cycled from Hout Bay along the scenic route to the V&A. Passing Llundudno, Camps Bay, Clinton, Sea Point and Green point on the way. On then to see the oldest vine in South Africa. Planted in 1771 and producing 20 liters of wine still today. Thanks to the special care of Signal Hill Winery. Incredible place in the heart of Cape Town! Well worth a visit! Lunch at Simons in Groot Constantia was awesome! The Groot Constantia Governors Reserve was great with the Roasted Pork belly which was made to absolute perfection! Then Klein Constantia with wine maker Matthew Day was a treat! His stories about the farm and his passion for what he does came shining through with the wine we tasted. We didn't leave before purchasing some Tour de France cycling jerseys with their sponsorship embossed on. Last stop was for sunset and a cheese platter and 70% Belgiun chocolate at Constantia Glen. We were impressed by the no 5 blend which has unusual varieties combined. Dinner was enjoyed at Katima's and here we ordered the Vergelegen Shiraz.

So which wine do you think we unanimously agreed was the best of all out of these great ones we had the pleasure of enjoying? The La Motte Pierneef Syrah Viognier!!!

So if you are ever interested in joining us for a cycle tour, seeing the sights the area has to offer, enjoying great cuisine and then of course finding out which wine is your favorite of the tour, contact us! It will be our pleasure to make it all possible!!